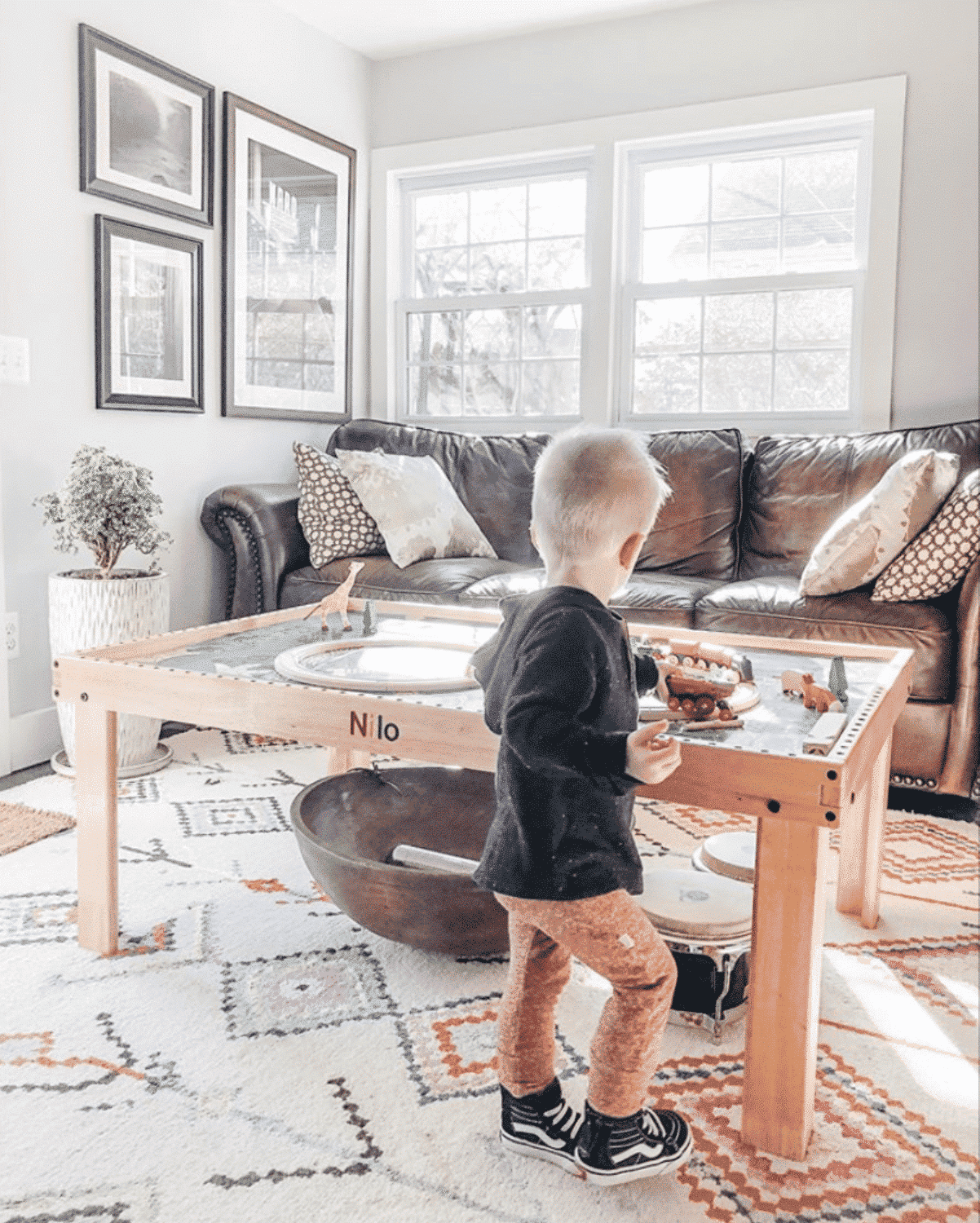 THE BEST WOODEN TRAIN TABLE FOR KIDS should be one that offers the following features:
• Solid hardwood: Why solid hardwood? Put another way, WHY PARTICLE BOARD??? Our Nilo tables are SOLID HARDWOOD framing!
• Multi-Use Table Top: Many tables out there use MDF. Many have a printed image on an MDF board. Many use just a plywood panel. Our Nilo tables come with a 2-SIDED WHITE MELAMINE MULTI-USE table top! Meaning, white on two sides. Thus, if you ruin one side of the panel you can disassemble the table and flip it over for another usable, new side! There isn't a better multi-use surface than melamine! If there was I would have been using it on our tables. The white top allows for super clean, super cool play with Play-Doh, Puzzles, Wooden Blocks, arts and crafts, you name it! Consider this very important aspect of a table!
• Does It Allow Seating? Well, this aspect is why I started Nilo Toys in the first place! Thomas, Brio, Kidkraft and other tables are/were too low to the ground. They were great for a 1-2 1/2 year old but at age 3 and up they have started to outgrow the table. Yes, they can still play on the table…for that matter you as a parent could play on those tables but can you sit comfortably with your legs under the table? I think NOT! Our table is the tallest in the industry standing at 19″ to the top of the white melamine surface. Most importantly, thanks to the design of our tables your child may be seated comfortably on any 12″ tall stool or bench and have their little legs and feet under the table! This allows them to sit closely to the table to play! Is this not an important point? Of course it is, so please consider it!
• Can The Table Grow As Your Child Grows? I don't know any other table that offer a taller option for your table. With Nilo, you may purchase an separate 24″ leg set to make your table 24.5″ to the top of the melamine surface when your child is 5+ years old! That is a nice option, yes!
• How Tall Is The Raised Border? Too Tall? To Low? We studied this issue for quite a while, compared all the different tables out there. What we found is that most table borders out there are either too tall or too short. Thus, we found that having a raised border of 1 1/4″ is the ideal height! Wooden train track is 1/2″ thick. This activity then allows for a 3/4″ border above that train track. Also, we found that 1 1/4″ is also ideal for doing arts and crafts, puzzles, wooden blocks, etc. The point is its low enough to allow those activities as well.
• Is It Sturdy? Will It Stand The Test Of Time? I'm not going to speak about other tables in this regard. I will only tell you there isn't a better made table out there! We started Nilo in 1994. Some of our first stores we opened still have that original table on their floor in their store…22 years later! Imagine the amount of kid traffic, abuse that table had to have had in order to still be standing! You'll find a photo of seven kids standing on our table for a photo shoot…its on our Blog…go there to check it out if you wish. That was a legit photo! We had it tested to 200 lbs but those seven kids probably totaled 350-400 lbs.
I'll add more to this topic over time. The above should give you something to chew on in the mean time. Thanks for taking the time to read this! If you have any questions feel free to reach out to us!