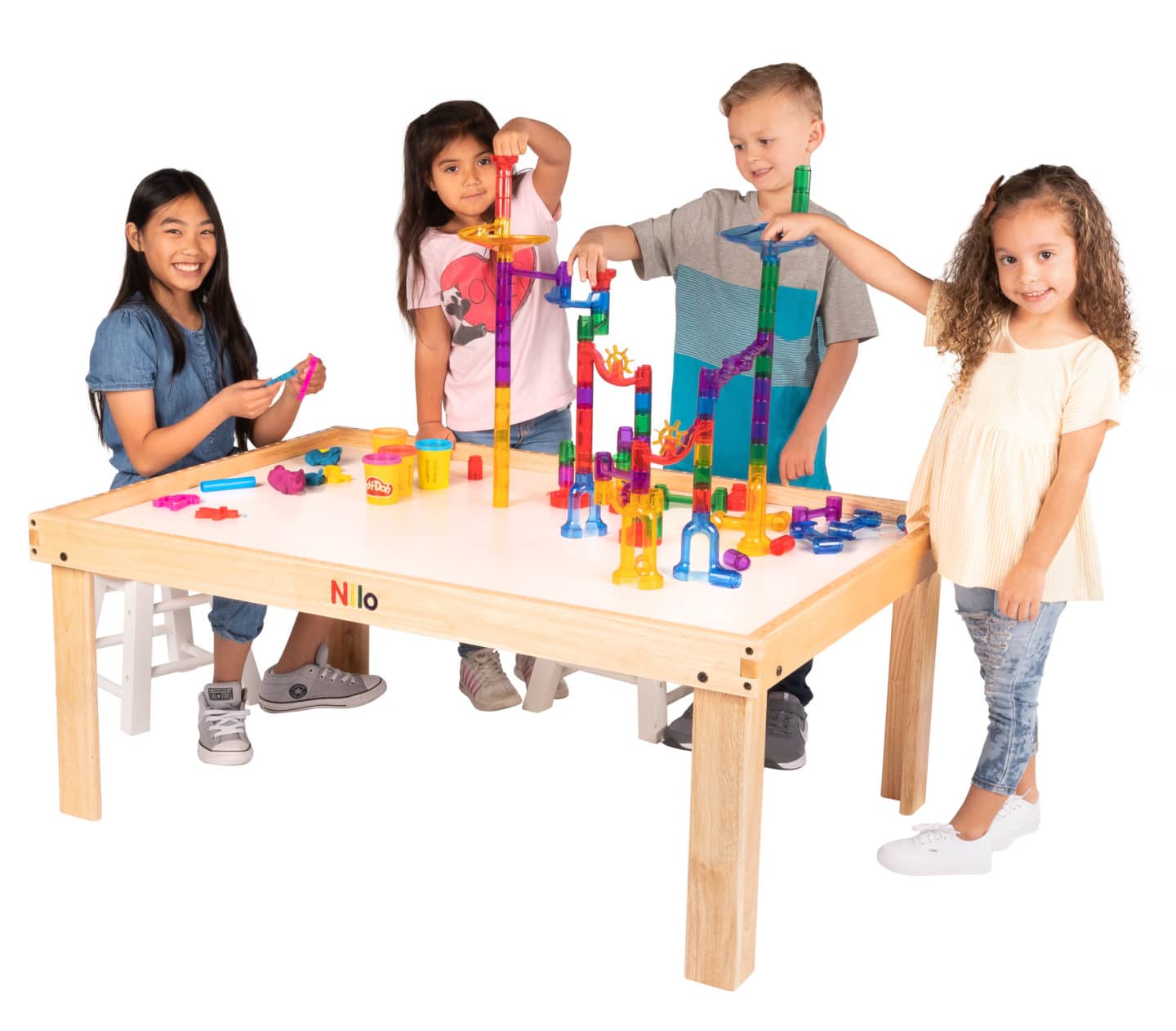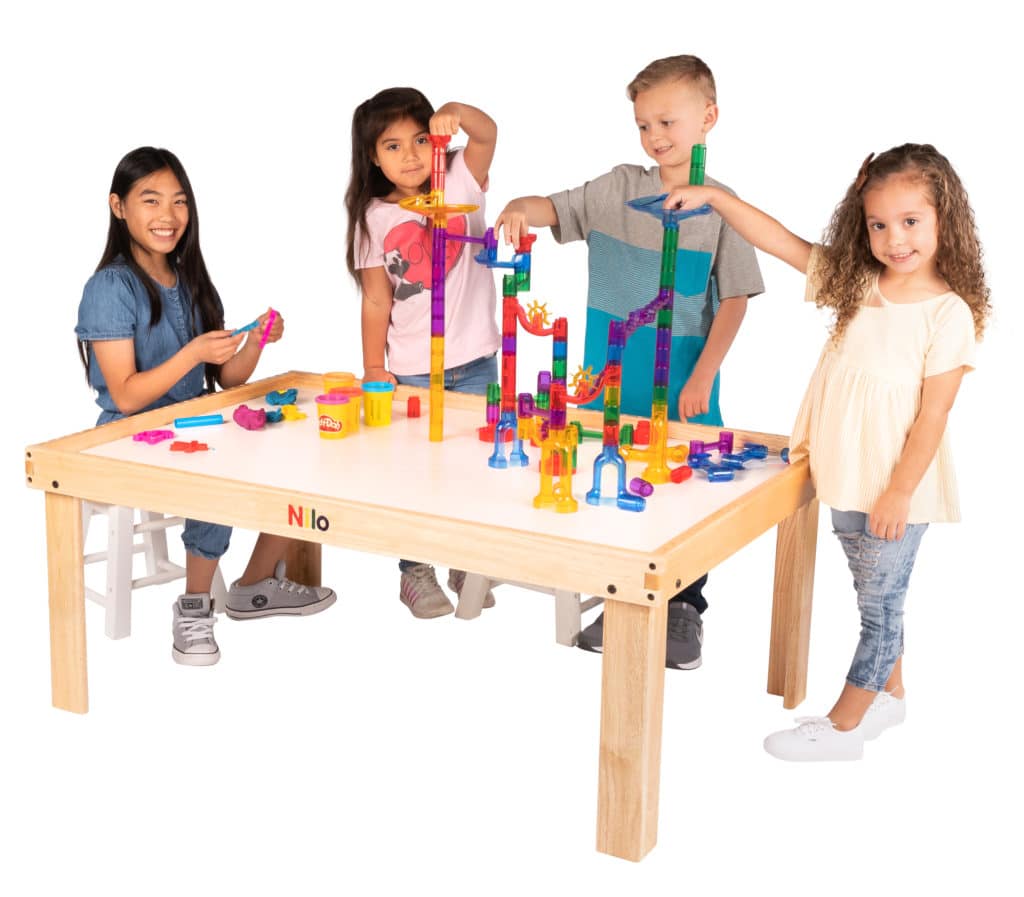 We would like to share with you why our Nilo Activity Table (Compatible as Lego Duplo Table) & Accessories are the BOMB when it comes to play tables for Lego use, Duplo use and other things. Check out why we think our Lego Duplo table is the best below:
Nilo table (compatible as Lego Duplo Table) Construction and Design
CONSTRUCTION: First, our Nilo Lego Duplo Tables are ROCK SOLID CONSTRUCTION! Made of solid hardwood and a thick multi-use melamine table top, they are made to stand the test of time! We have customers that bought our tables back in 1992 and still have them in action today! How's that for quality.

ERGONOMIC: We designed our table's to be the PERFECT HEIGHT, 19" to the table top surface. This allows your child to be comfortably seated with their legs under the table while at play! We also have longer leg kits available so as your child grows…so can your Nilo Lego Table! Both 24" and 30" Leg Sets are available.

CREATIVITY: The RAISED BORDER is ideal to keep manipulatives, Lego Blocks, Duplo Blocks on the table while at play! Its 1 1/4", which we feel is the absolute best height for this purpose. Our super cool "Puzzle Fit Corners" make it a breeze to assemble! And, they look really great, too! We also provide a straight allen tool so you can use your drill to assemble our furniture items! That makes assembly super easy and quick to do! Just set your drill clutch to about 1/2 the torque power and pull the trigger. Boom, your done in no time!
VERSATILITY: Not only are our tables high quality, but also extremely versatile! You can use the white double-sided easy-to-clean tabletop for all sorts of activities, cover it with our Nilo double-sided compatible as Lego Duplo Base Plates, utilize our other table-specific Accessories, or even cover the play table with the all new Nilo Dining Topper (compatible with Large Play Table) to make a coffee table out of it; Perfect for playrooms, living rooms, and more!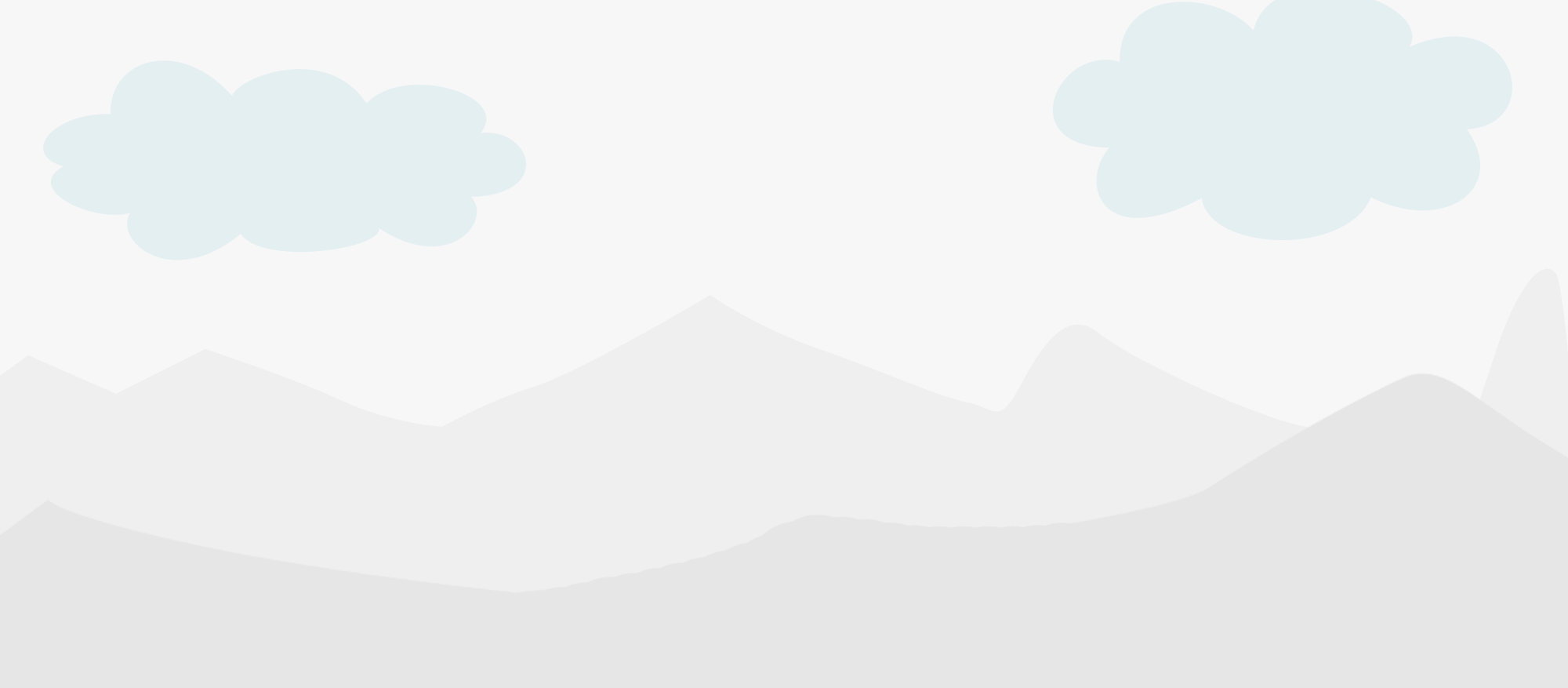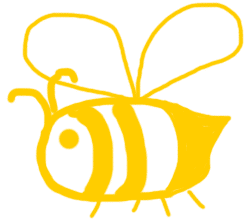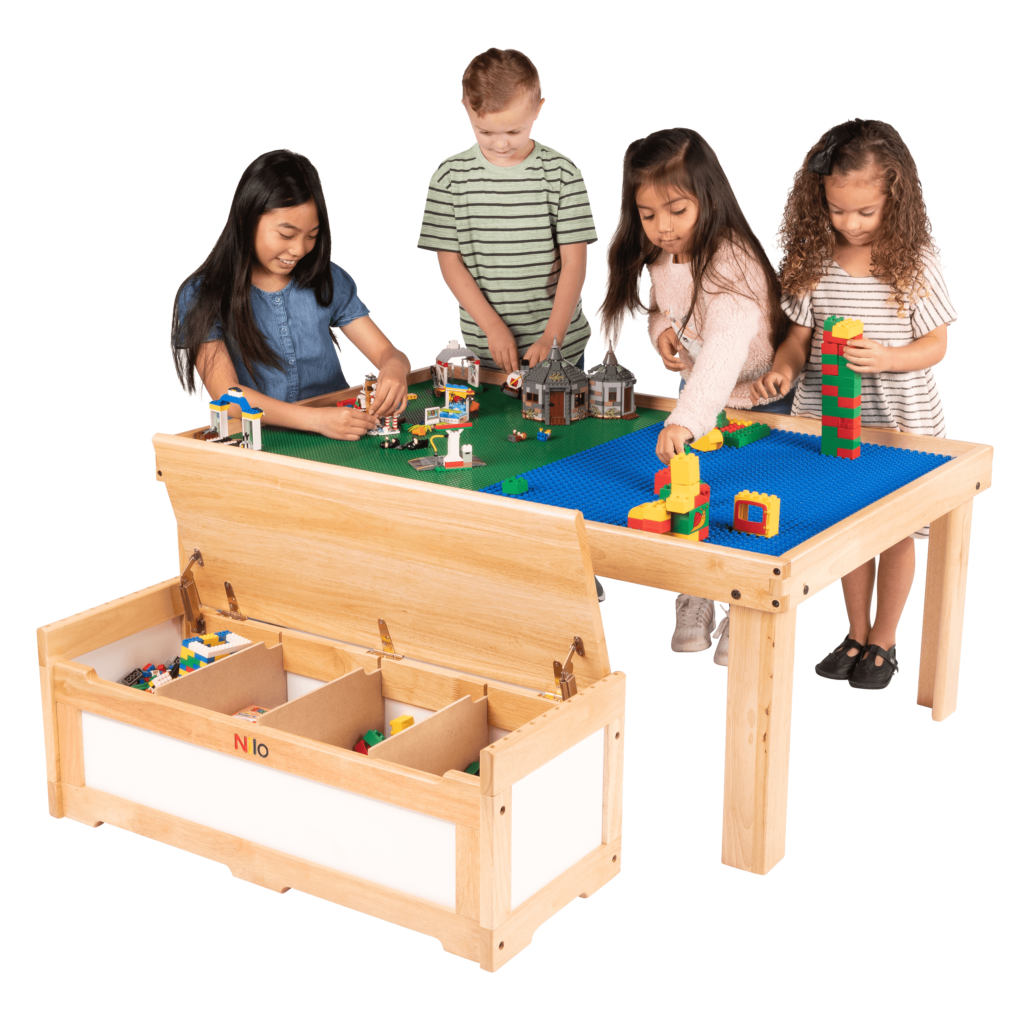 Lego Duplo use on our Nilo Multi-Use Tables

For Lego use and Duplo use we have our Nilo double-sided compatible as Lego Duplo base plates. These are huge 12" x 32" semi-rigid panels which feature true Lego use on one side….and true Duplo use on the other side! This way, you are getting both uses for less that the cost of having to buy both plates from another brand!
Here's the benefits of having a table that is compatible as a Lego Table that uses Base plates instead of having a permanent tabletop that is Lego and/or Duplo compatible: The Nilo tabletop is white, multi-use melamine, the best surface for play value! Easy to clean. Durable. Great for virtually any sort of use short of sand and water. You then place our Nilo baseplates (compatible as Lego Duplo Base plates) on top of the melamine to play with either the Lego side or the Duplo side.
You can start a Lego project or Duplo project on the baseplate, then remove the Nilo baseplate compatible as Lego Duplo base plate/project from the table and use the table for another activity. Later, you can then grab that same Lego Duplo base plate/project and put it back on the table and continue building!
With other tables, the entire tabletop is strictly a Lego surface, there isn't another use for the table! And, building duplo blocks on a Lego surface is simply not fun! You must have a Duplo surface for Duplo play!
Finally, you are able to wash our Nilo baseplates compatible as Lego Duplo base plates very easily in the sink! How would you do that with a large tabletop design? You really couldn't. We currently offer our Nilo baseplates compatible as Lego Duplo Base plates in both Green and Blue. Thus, you can have two different colors to choose from, your not limited to just one color. We may offer other colors in the future, as well.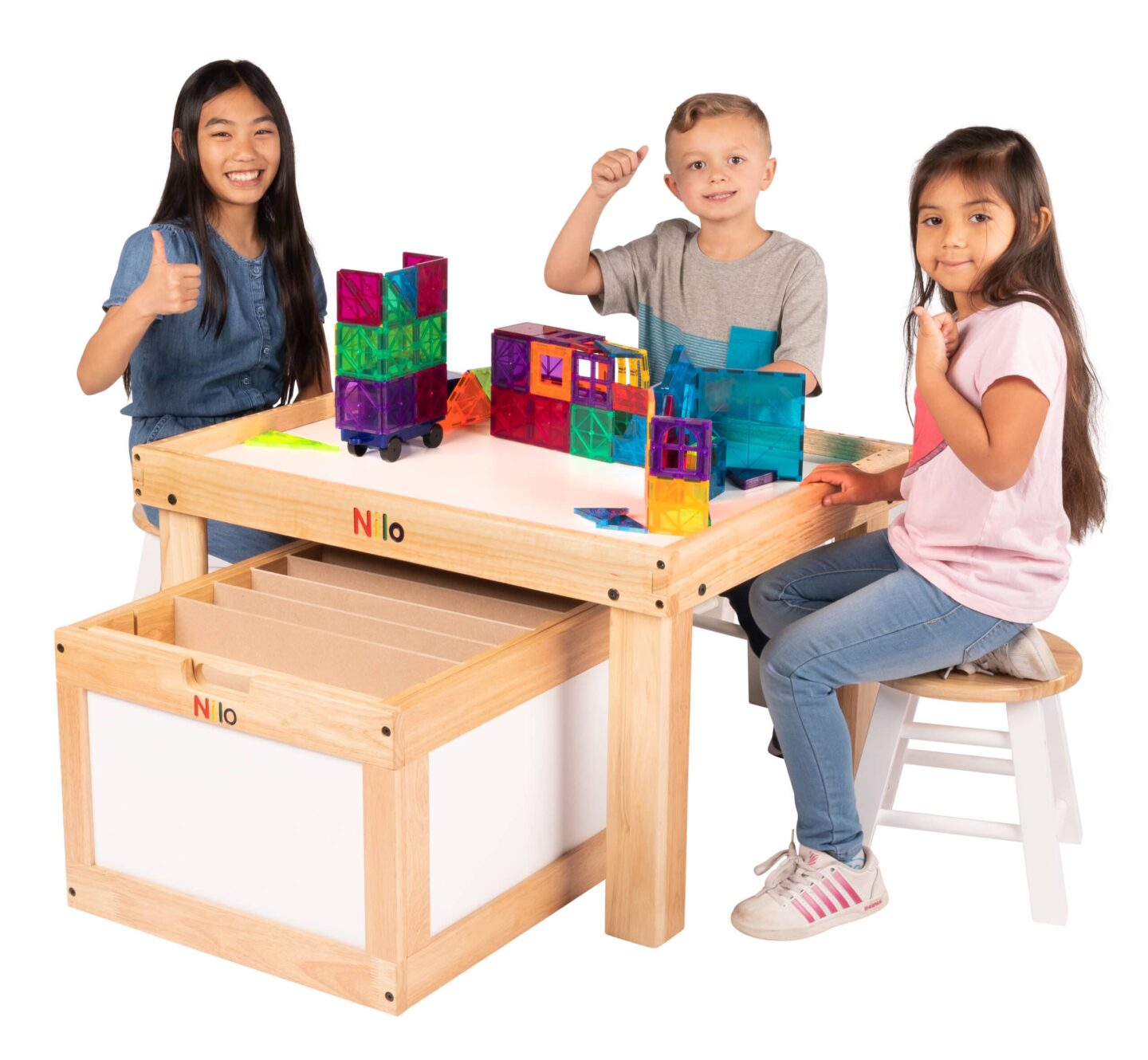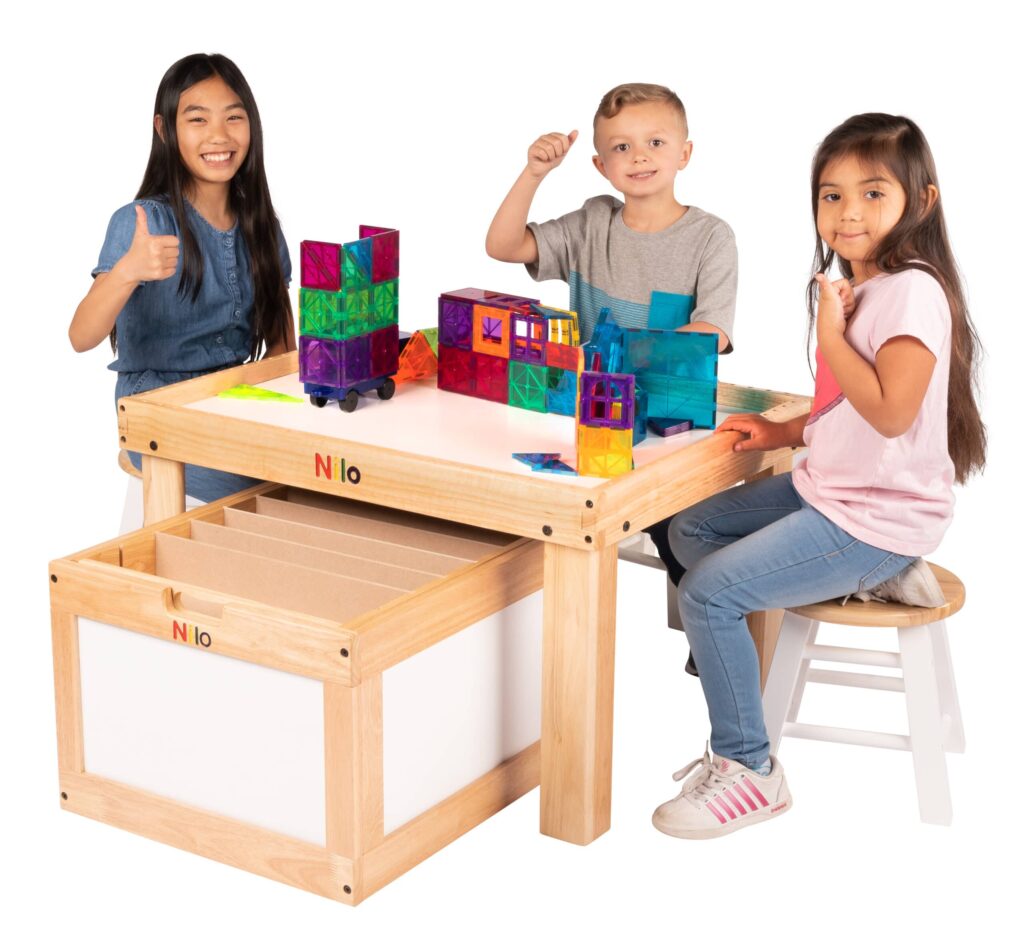 Nilo Building Block Table (Compatible as Lego Table) Height Options
As mentioned above, our standard table leg height is 18.5″, and 19″ to the tabletop surface since the melamine table top is 1/2" thick. We offer our Nilo table (compatible as a Lego table) in two sizes, Large and Small. There are a few options for each table you choose, simply click on the drop down menu on the product page to view the options for each.
The tables are also offered either WITH holes in framing for Accessory use, or WITHOUT holes in framing for accessories.
The Large Play Table has a 32" x 48" play area while the Small Play Table has a 24" x 32" play area. Just decide if you want the HOLES for Accessory use. Lastly, you have an option to ADD the Baseplates to your order when ordering the Small Play Table or Large Play Table.
Nilo has been producing this exact table since 1992! There simply isn't a better way to design a table for Lego use, Duplo use or any other use such as Puzzles, Play-Doh, Lincoln Logs, Tinker Toys, Playmobile, Hotwheels, Wooden Trains, Crafts or doing homework.
We think you'll find our Nilo table (compatible as a Lego Table, Duplo Table, Multi-Use Table) to be the BOMB! Get one…..or five today!
Thanks for your consideration! "Buy once, Buy right, Buy Nilo!"