Product Description
Nilo® Lego Duplo Block Table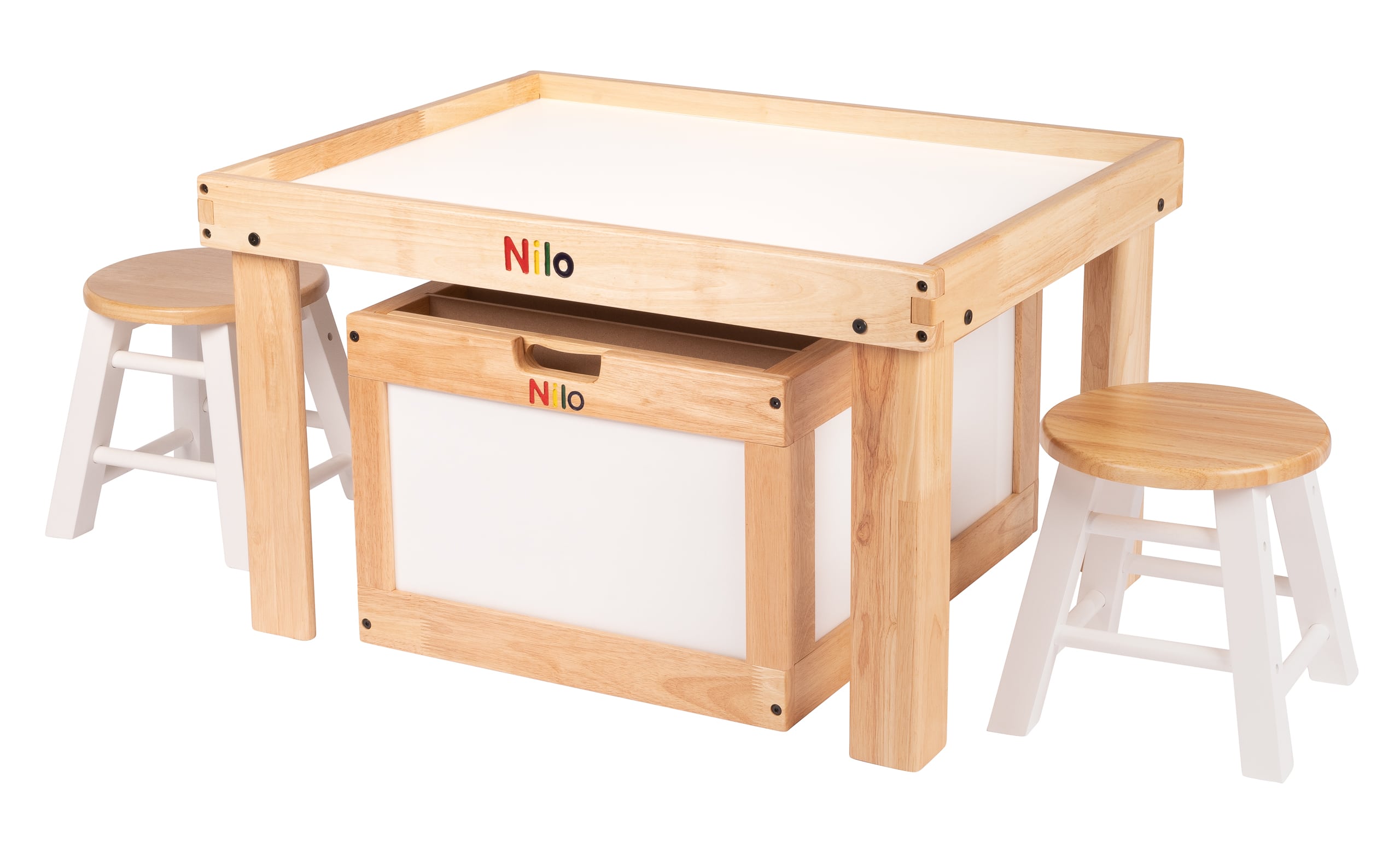 (Optional Add-on: 2-Sided Block Mats, Lego® on one side, Duplo on the other side)
Measures 25″W x 34″L x 20″H
Play surface 24″W x 32″L x 1 1/4″H
Solid hardwood construction
Easy to clean double-sided melamine surface
TABLE DESIGN ALLOWS SEATING
Fantastic LEGO DUPLO table, puzzle table, for smaller rooms…bedrooms, etc
24″ Leg Kit available for this table as an add-on.
Each baseplate is 12″ x 32″. They simply drop into the raised border of our tables.
1 1/4″ recessed tabletop keeps bits and pieces from falling onto the floor. No more stepping on toys!
Easy to clean baseplates since you can remove them, wash them!
Note, if there is any issue with your table, we simply replace any needed part. We've proven our product over the past 29 years, just take a look at our reviews!
Proven to last for generations – "Buy once, Buy right, Buy Nilo®"!
Note, the Gallery of photos is provided to show various uses of our table.
Holes or no Holes?
With Holes in Framing:  The original reason for the holes was to hammer in Nails and construct off of the table with a toy called Brio-Mec. Our Slide Hammer 'N Nails allows you to Hit the Nails INTO the table and then Hit them OUT of the table thanks to our dual purpose Slide Hammer design. The holes also interact with our Nilo-Jax (Extreme trestle set great for wooden trains and other track sets), Rok-Jax (Rokenbok use) and our Nails also work with Zoob (a construction toy), Fiddlestix and other toy uses! So if you want to add value to your Nilo table you may want to consider our #1 selling Large table or our Small (half size) table. Just select your Finish!
Without Holes in Framing: Basically, a cleaner design, not having holes in the framing. Obviously, you lose the ability to do the other activities above. Either way….your purchasing the absolute best quality table for your child!
Why choose a Nilo® Kids Activity Table Lego Table Train Table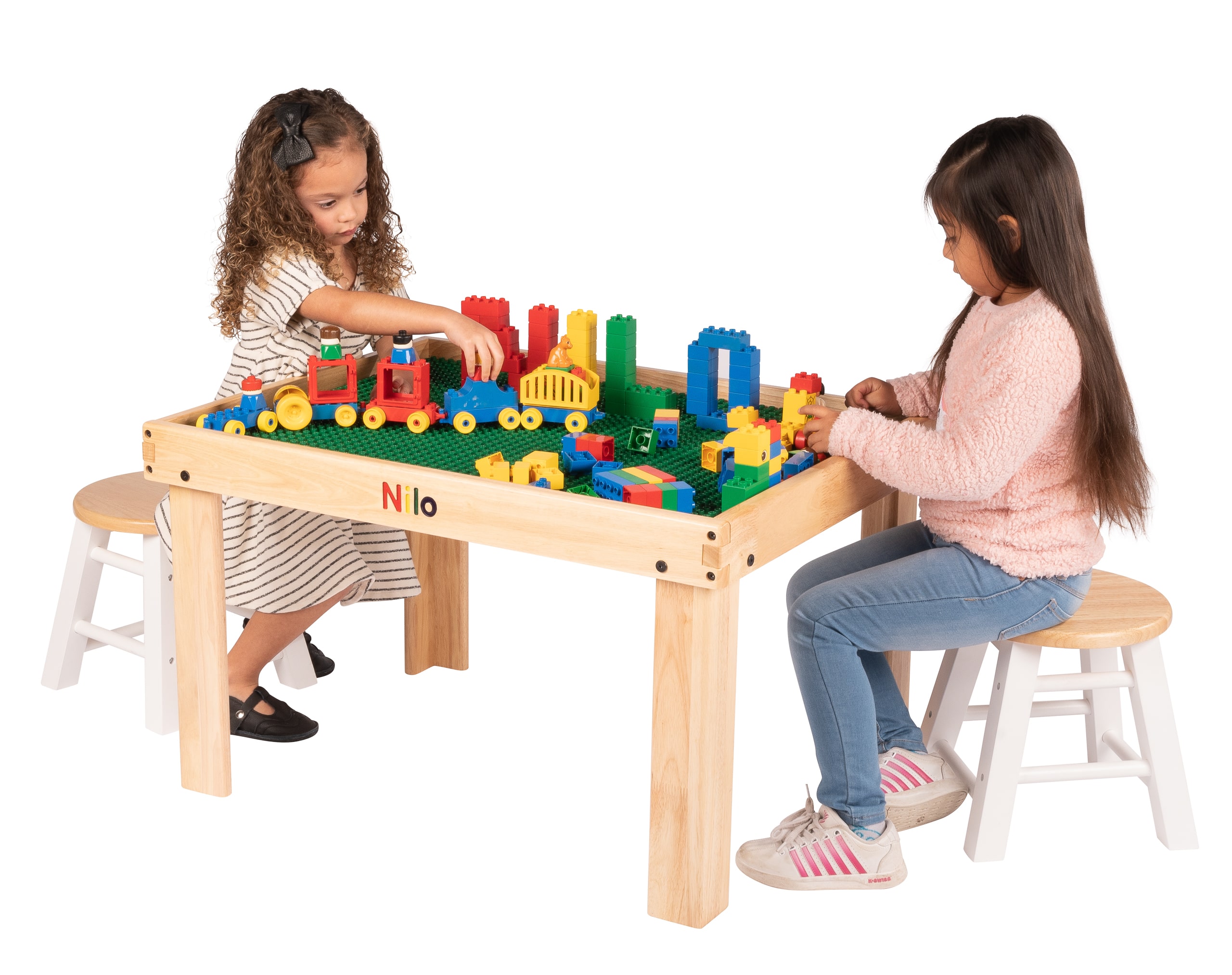 There are many reasons why Nilo® is the leader in activity tables, Lego tables, Duplo tables, wooden train tables, basically multi-use tables for children. We've been selling our incredible tables since 1992!  This is our 29th Year Anniversary! Lets just get right into it!
KIDS ACTIVITY TABLE APPEARANCE
Our Duplo Table design is timeless, clean, simple. We designed it so it appears like an piece of quality furniture…which it truly is! The Nilo logo is carved into the wood and painted!  It isn't stamped on, silk screened on, painted on or worse, just a sticker! Nope, I wanted that element to be as graceful as the rest of the table. It cost a bit more but I feel it is worth it. Don't you?
NILO'S KIDS ACTIVITY TABLE PLAY TABLE TRAIN TABLE LEGO TABLE  DESIGN
A few key points here. One, the raised borders are the perfect height, not too low, not too high. As such, they serve to keep manipulative on the table top and off the floor. Second, its the perfect height for wooden train use…the track is 1/2″ thick, our borders are 1 1/4″ high. This allows for 3/4″ of raised border with wooden track being placed on the table. Its therefore excellent to use as an WOODEN TRAIN TABLE. I've noticed many tables feature just 1/2″ or 1″ and others feature 2 1/2″ or more!  None of these dimensions are ideal in my opinion. Thus, we feel our 1 1/4″ is the best out there. Its also ideal to use as an LEGO TABLE! Or, DUPLO TABLE, thanks to our wonderful baseplates or Block Mats as we call them. Check out our Block Mats here: Click here. Obviously, our tables are the absolute best KIDS ACTIVITY TABLE there is!
Next, lets talk about how our table is made. Solid hardwood, dado in frame which sandwiches the table top for added strength, solid "L" shaped legs and 1/4″ bolts, 6mm corner screws hold this baby together…for life! Our large and small childrens' tables come with the best multi-use surface for a play table, namely, melamine. We chose to include a "two sided" top. If one side gets damaged you can disassemble one end of the table, slide out the top, flip it over and bingo, you have a new table top again!
The height of our table is 19″ to table top. This is also ideal. Most tables are TOO LOW to the ground…your child will outgrow these tables within 2-3 years. Also, our table allows seating, your child may sit on our stool or toy chest and have their legs comfortably under the table…SUPER IMPORTANT, DON'T YOU THINK?
This table does not include our Graphic Play Mat. See the mat here: see it here.  If you desire this mat, please order our Large Childrens Table instead.
Finally, our "with holes in frame" tables features holes around the border for cool activities, like our Slide Hammer 'N Nails, Nilo-Jax, Rok-Jax, Fiddlestix and Zoobs! Talk about added value! However, since you are looking at our "NO HOLE" table here these things don't apply to you….I just thought I'd mention them to make sure your ok with your choice of this "NO HOLE" table. We also sell our Block Mats making our tables an Lego Table or Duplo Table. Note, the benefit of our design with our Block Mat use is your child may start an project on our mat sitting on the table, then you may remove the mat with project on it to use the table for another use…then later simply place the Block Mat with project back onto the table top and continue to build! Additionally, you are easily able to wash the Block Mats, clean them since they weigh only 2 pounds. Many Lego tables are permanently attached to the table top…there is no way to wash the Block Mat (base plates).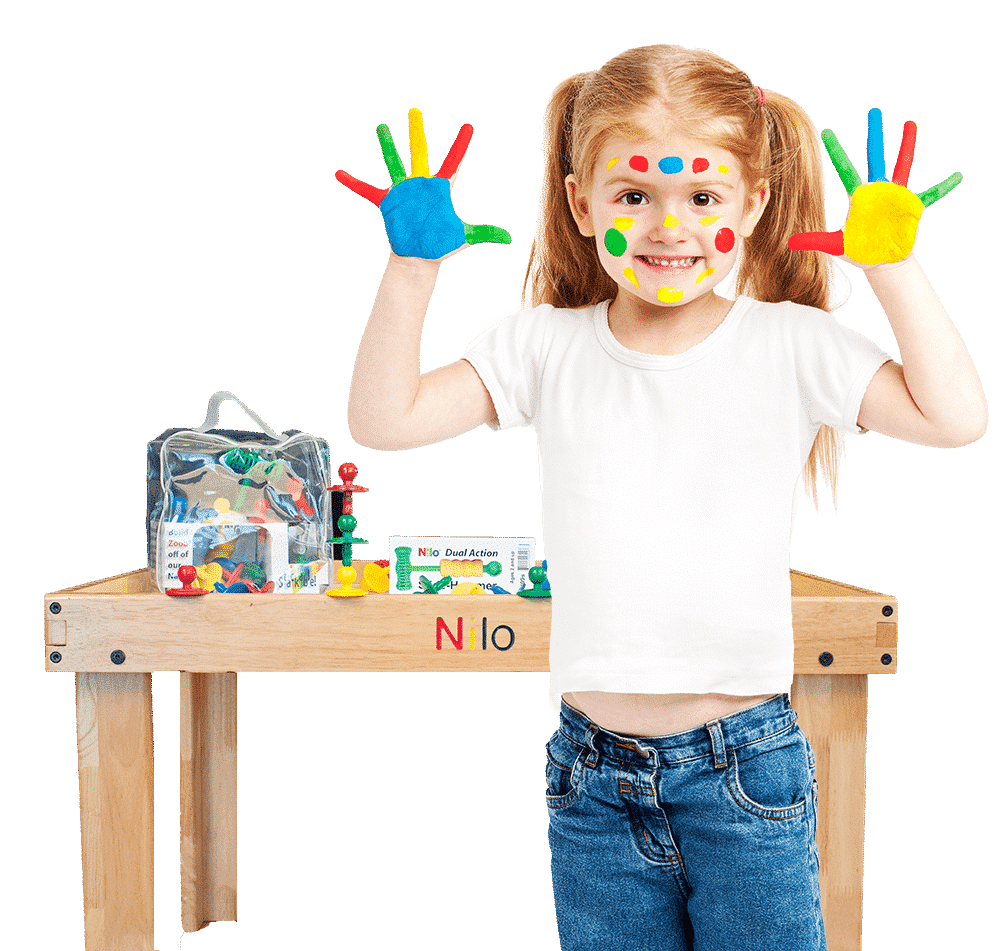 In summary, there isn't a better designed, better made, more versatile Duplo Table, Lego Table, Train Table Kids Activity Table on the planet! Buy one today! You'll be glad you did! Check out our 5 star reviews! Tell your neighborhood Specialty Toy Store about us, should they not carry Nilo!
One more thing….should you purchase this table or one of our others, we'd sure appreciate you letting your circle of influence know about your choice!  Should you be ecstatic, once you assemble the table and see your precious little one(s) playing like theres no tomorrow…perhaps you could make a favorable comment on our Instagram & Facebook page @nilotoys! We're a small, privately owned U.S. based company and could sure use your help letting others know about us! Thank you in advance for your consideration!