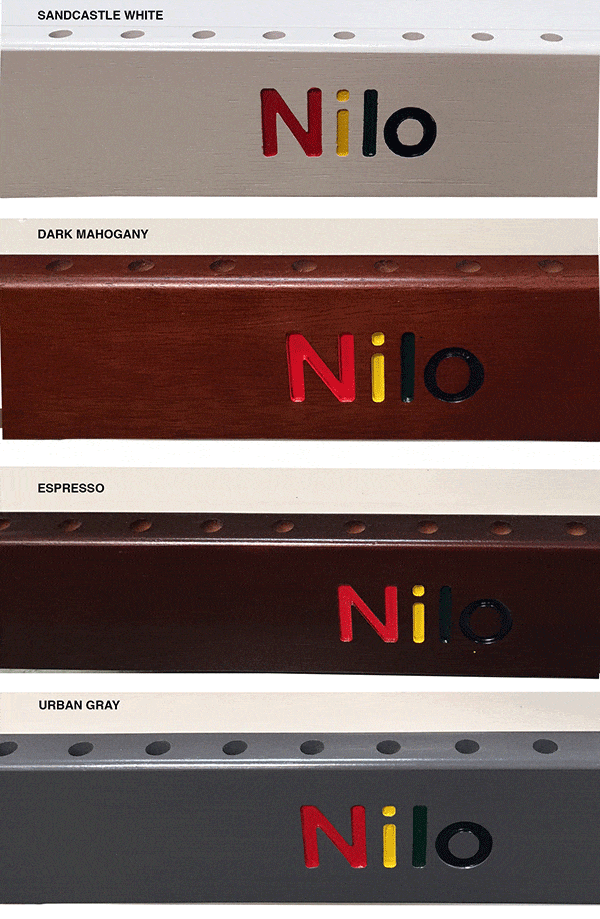 We thought we would post photos, videos we've received from our customers so that you can enjoy them. We also posted some of our own photos. You are welcome to email us your photos/vids if you wish and we will add them here for others to see. Please send nice resolution photos so they will appear large here! What's great about this is you will see the different product, finishes in different settings to help you decide on your purchase. We have enjoyed our 25 years of being in business, forming our Nilo community. It would be great if you JUMP IN and make it more fun, homey! In advance, thank you for sharing, we all appreciate it very much!
Below, we though we would start with wood colors so you can better decide which to choose by comparing them next to each other. Please note, we are phasing out our colored lines so act soon if you want one of these great options! If you do not see an accessory, like N26D Dark Mahogany Storage Bin…then we no longer have them! So, hurry if you want a colored set of something and check the accessories in our store to see if they are still being offered. Natural Clear Coat is not shown below, we will be offering only our Clear Coat going forward. Thanks for your interest in our products!
One last thing, both Fedex and UPS just changed their shipping costs. This has increased the cost to deliver our N51 series tables to your door by $21. Unless a table is less than 48″ long everyone will have to increase their pricing as such.